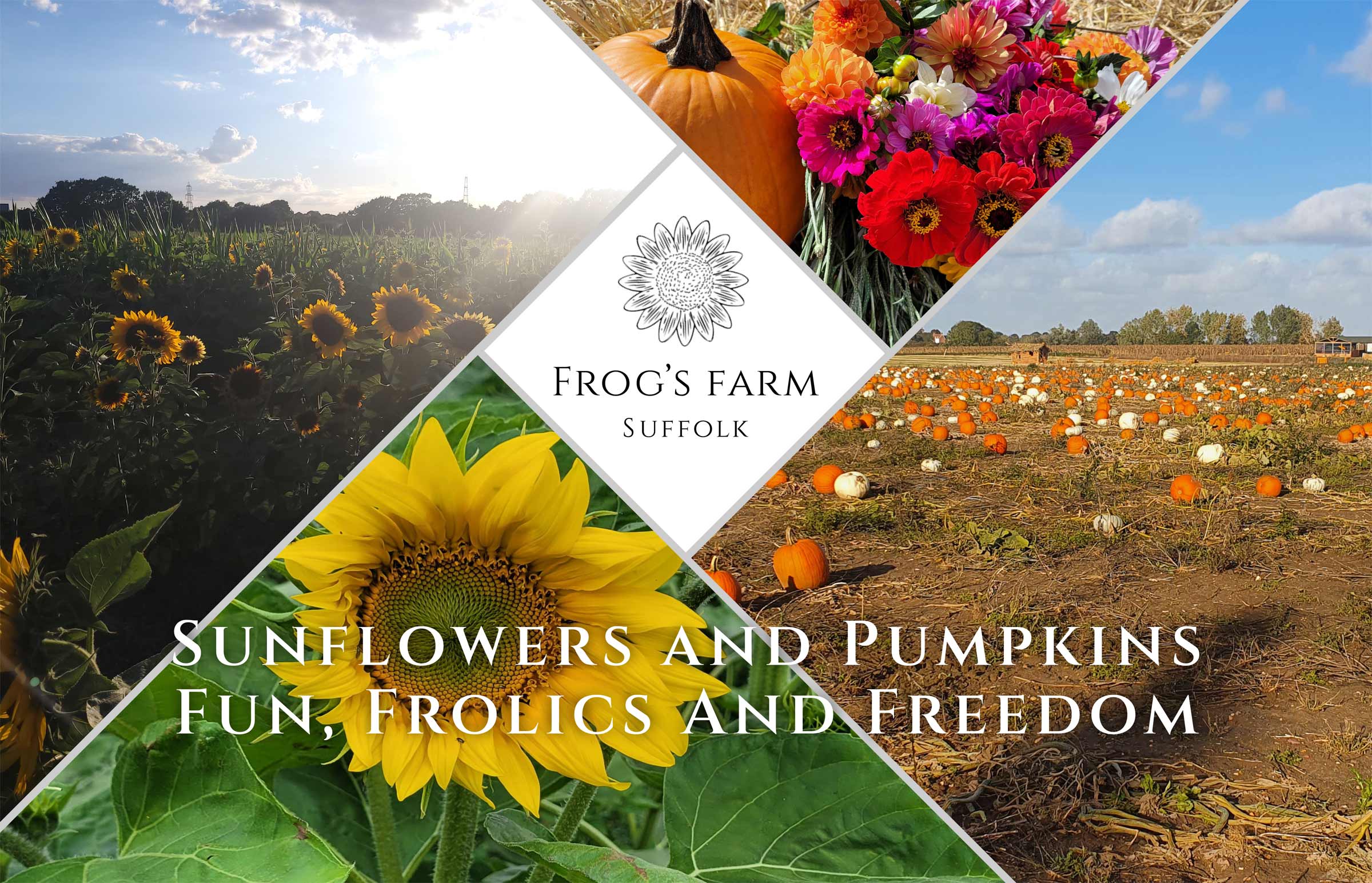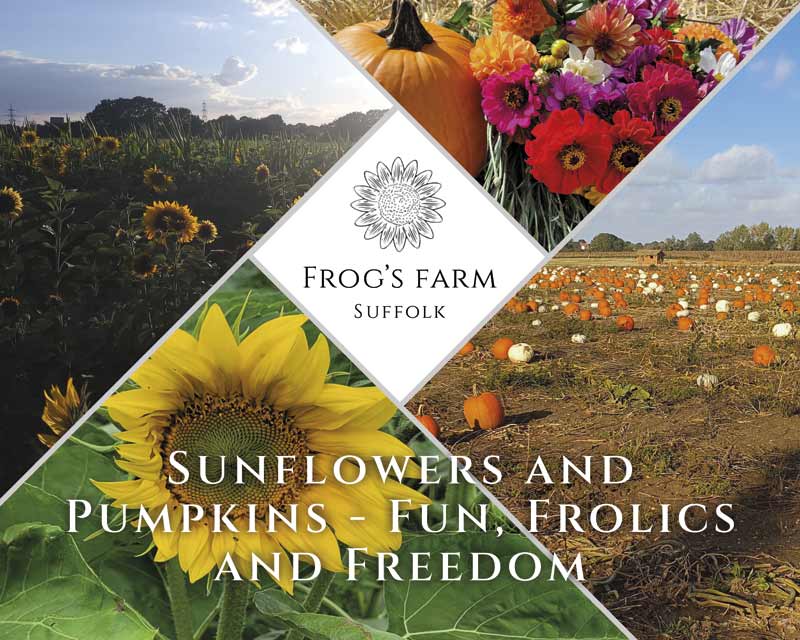 Welcome


to Frog's farm Suffolk
Just off the A140, in Thwaite, Suffolk IP23 7ED
Just off the A140, in Thwaite,
Suffolk IP23 7ED
Frog's Farm Pumpkin Patch 2023
Entrance £2.50 per person
Multi-coloured Wheelbarrows
60,000 pumpkins to choose from
Food trucks and refreshments
Sunflower Mazes closed for 2023
Opening date for 2024 coming soon!
Frog's Farm is a small, family run farm that offers pop up events throughout the year, located just off the A140, in Thwaite, Suffolk. Our speciality is fun on the farm.
Is there anything better than seeing children be children, families relax and couples strolling romantically around a beautiful site? Well, that's what we pride ourselves on at Frog's Farm.
Each summer we grow hundreds of thousands of glorious yellow sunflowers that we cut intricate maze designs into, allowing children and adults the freedom to run, walk or cartwheel through. Each group has a different experience – whether they race to the middle or enjoy taking in the glow and smiles of our sunflowers – it truly is a breathtaking site.
As Summer turns to Autumn, our farm changes with the season, and our Pumpkin Patch takes over. At Frog's Farm, we grow over 20 varieties of pumpkin from our tiny munchkins to our Atlantic Giants and everything in between. Our pumpkins come in all shapes, sizes and colours and we enjoy seeing which ones everyone chooses to take home. Along with our pumpkin picking patch, we also have an number of attractions throughout the site. In previous years we have had an enchanted wood, witches trail and last year saw Frog's Farm have an alien invasion – who knows what will come next?
We love nothing more than seeing families spend quality time together and exploring the site or just relaxing with a cup of coffee from our locally sourced coffee shop.
Frog's Farm is a truly incredible site where you can be close to nature, free from devices and connected as a family.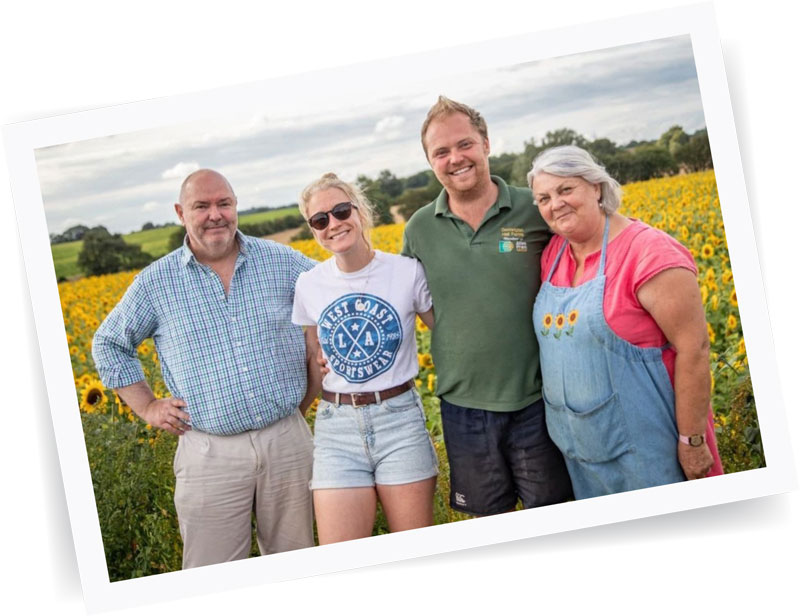 A warm welcome from the Vaudrey Family
A warm welcome from the
Vaudrey Family
Established during Lockdown 2020, when Freddy (Owner) saw that people needed outdoor space to run, roam and be at one with nature. Which is exactly what was created. Frog's Farm is a truly inspiring site where children can explore freely and be at one with nature, couples can enjoy a romantic stroll, getting those all important Instagram worthy photos, and families can reconnect with each other and have the best day out!
Frog's Farm is a small family run farm which is passionate about nature, local produce, diversification and showing off the best that Suffolk has to offer. Freddy, Bekkie and the rest of the Vaudrey family all play a role in the making of Frog's Farm, which is what makes it such a fantastic place for visitors.
Freddy, who is the brains behind the farm, is in charge of the farming side – he drills, cultivates, irrigates, weeds, hoes and mows all crops on the farm, from the sunflowers for our mazes, to the pumpkins for the patch. He is passionate about stepping away from the traditional cereal crops and trialling new varieties and plants which is very exciting.
Bekkie, a teacher for most of the year, runs the farm during the pop up events. She is passionate about education, children's wellbeing and life experiences. Her insight into the minds of little ones has helped evolve the farm into a fantastic space where children can be away from their devices and enjoy the freedom of being young and curious.
Jennifer (mum) is a fantastic horticulturalist and has expanded the farm into the colourful and vibrant place it is today. Her knowledge of British flowers is second to none and she has grown her cottage garden patch year on year- growing beautiful wildflowers, rare sunflower varieties and other foliage which she uses in her hand tied bouquets and flower workshops.
Joe (dad) is Mr Admin. Joe works tirelessly behind the scenes making sure that our farm is a safe place for everyone. That being said, he is not afraid to get his hands dirty. You can often find Joe helping in the coffee shop, emptying the bins or just saying hello to our wonderful visitors during the day.
What to do


at Frog's Farm Suffolk
3 Mazes / Picnic Areas / Bale Mountain
Sandpits / Flower Crowns / Stamp Trail
Pick your own / Sundowner Evenings / Photo Spots
Café / Flower Workshops / Plus so much more